A Comprehensive Look at Local Law 152
Conceived in 2016 but bought into full effect in 2019, Local Law 152 is just one component of a 10-piece legislative that was created to avert disasters associated with dangerous gas leaks and pipeline explosions in New York City. This law dictates elements such as fines for non-compliance or existing hazardous conditions, inspection schedules, installation of gas leak indicators on detection devices, and how building owners should alert residents if a gas leak occurs.
Under the law, all buildings are required to undertake periodic inspections of their gas piping systems at least once every four years. This will include gas piping systems both outside and inside the building, rooftop mechanical spaces, boiler rooms, amenity spaces, and publicly-accessible areas.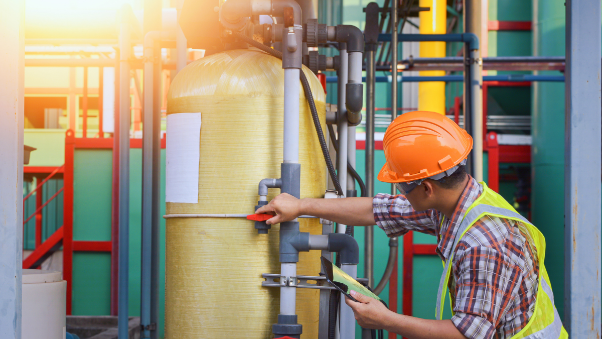 The Rules of Inspection according to Local Law 152
Local Law 152 makes it mandatory for all gas piping inspections to be conducted by a New York City-licensed Master Plumber (LMP) or any other qualified individual working under the direct supervision of an LMP. The LMP must have 5 years of experience conducting Gas Piping inspections in NYC. As mentioned before, the inspection should take place at least once every four years.
The LMP must submit a completed 'Gas Piping System Periodic Inspection Report' that contains all information necessary for the board and building owner to review. The report will include details regarding the list of conditions that need rectification and worn or frayed piping that might affect otherwise safe operations.
The report should also shed light on illegal or non-code compliant connections and the presence of combustible gas or other potentially unsafe conditions. If the building uses portable combustible gas detection and indicators, then the LMP must verify whether these devices are approved by the New York State Department of Public Services.
After the inspection, the building owner has no more than 60 days to submit the inspection report to the DOB. A new inspection will be required if the report is submitted more than 60 days after the inspection is concluded. The building owner will be liable to pay a $5000 fine if the certified inspection report is not submitted on time.
It is also mandatory for building owners to keep records of all their certifications and inspection report on file for at least 10 years. These reports should be made available to the DOB when and if requested.
When does a Building need to file for Local Law 152?
Although initially, the filing deadlines under Local Law 152 were organized by the borough, that all changed in 2019. The filing deadlines are now modified based on individual community districts belonging to all boroughs.
Exactly when a building needs to file for local law 152 will depend on which district the building is located in. You can refer to the below map link to learn exactly when each district is due for inspection.
https://communityprofiles.planning.nyc.gov/
Community Districts 1, 3, and 10 in all boroughs: January 1, 2020 – December 31, 2020
Community Districts 2, 5, 7, 13, and 18 in all boroughs: January 1, 2021 – December 31, 2021
Community Districts 4, 6, 8, 9, and 16 in all boroughs: January 1, 2022 – December 31, 2022
Community Districts 11, 12, 14, 15, and 17 in all boroughs: January 1, 2023 – December 31, 2023
What Conditions Are Deemed Hazardous or Unsafe by the LMP?
Following are some examples of conditions that an LMP will determine as unsafe or hazardous:
Presence of combustible gas in the surrounding air.
Illegal or non-code compliant installations
Any sudden hazard might require the operator to shut the gas down or lock the meter.
Excessive cracks or corrosion on piping.
The LMP is obligated to immediately notify the building owner if they unearth any of the above hazardous or unsafe conditions. The building owner must immediately take corrective actions to correct the issue. The actions taken should be in compliance with the New York City Construction Codes. This involves the procurement of all the necessary work permits.
What to Do If the Conditions Found are Deemed Deficient
Deficient conditions aren't considered to be immediately unsafe or hazardous. If such conditions are detected by the LMP, then the building will have no more than 120 days to address the condition. During this period, they need to take the necessary corrective actions, execute another round of inspections and submit the completed inspection report to the DOB.
The building owner can request a 60-day extension by submitting a petition to the DOB if they seek additional time to conduct repairs and undertake an inspection.
What Buildings are Exempt from Gas Piping Inspections?
Some buildings in NYC do not have a gas piping system. However, these buildings are still obligated to certify their existing conditions by a professional engineer or architect. The detailed certification must then be filed with the DOB. The inspection deadlines will be the same as for buildings that have gas piping systems and are located in the same community district.
Moreover, these building owners also need to keep the inspection report and certification on file for 10 years, and the reports must be made available to the DOB on request. Not filing for inspection certification before the set deadline will result in a civil penalty that can amount to $5000.
Furthermore, buildings that fall under the classification 'Residential Group R-3' are typically exempt from such requirements. Whether or not they need to file for inspection will depend on the number of rooms and occupants residing on the property. We would suggest you refer to the building's 'Certificate of Occupancy' to verify the classification of your building.
Newly constructed buildings that have already undergone certified gas piping inspections are also exempt from complying with Local Law 152. The very first inspection of a newly constructed building must be conducted in the 10th year after the building receives its certificate of occupancy or official letter of completion from the DOB.
How IAG Energy Can Help You Comply with Local Law 152?
Most building owners aren't prepared to go through the hassle that the entire Local Law 152 compliance process entails. IAG Energy is home to experts that possess the insight needed to simplify and expedite the entire process on your behalf. We work closely with building owners to help them comply with Local Law 152.
We will take care of retaining a qualified inspector, completing the DOB filing on time, and answering all queries you might have about this mandatory law in order to make the entire compliance process as hassle-free as possible.
You can contact us now to learn more about how we can help you with Local Law 152.